We're thrilled you've dropped by our little corner of the world to say hello. We'd love to talk all things photography and videography with you. But first, here's a little of our story…
As long-time Straddie residents, passionate travellers and adventurers, much of our life together (yep, we're married) has been viewed through a camera lens. All over the world, we've worked for newspapers, shot for lifestyle magazines, featured in photography exhibitions, collaborated with famous brands, contributed to tourism campaigns of all kinds and helped thousands of people to capture memories for a lifetime.
As you can imagine, it's been some wonderfully eclectic time spent getting here.
Throw in Straddie as the world's most beautiful backdrop and the end results are stunning.
Just ask the people who've worked with us before and who come back to us again and again to capture their big life milestones. (Facey reviews HERE  and Google reviews HERE)
Put simply, we love our life, we love our jobs and we'd love to work with you. So give us a call or drop us a line. We're always up for a chat.
years shooting Straddie weddings
first wedding shot on Straddie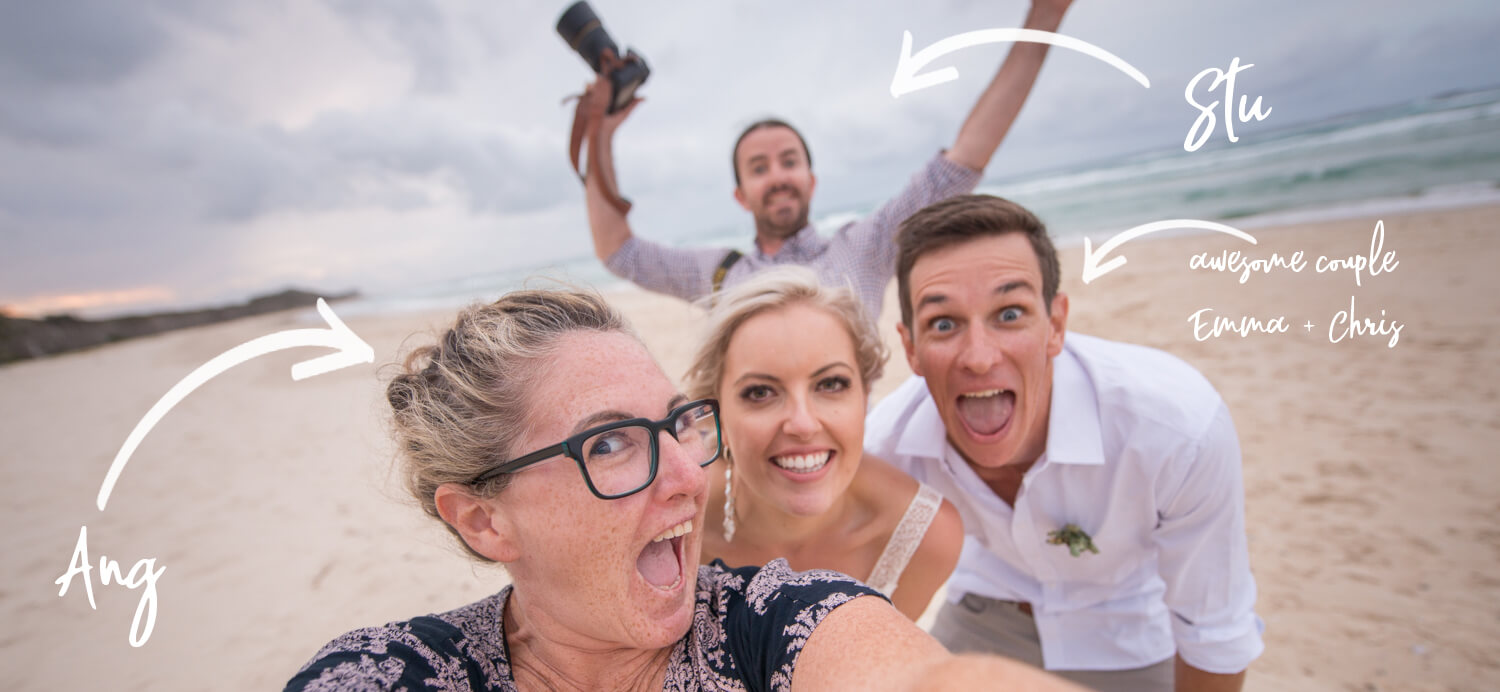 We are a married couple, we met while working as photographers at the same regional newspaper. We were already accomplished newspaper photographers by the time we met and had both already worked at several papers, in different parts of the world.
Ten years ago (after bouncing over the world for a bit, we decided that we wanted to live on Straddie, and so, we made it happen.
We shot our first Straddie wedding together in 2012 and have shot hundreds on the island since then.
We have a little fisherman's shack in Amity that we renovated ourselves, we freakin' love it.
We love to travel, and not to your usual tourist destinations – We have been known, to buy a one way ticket to nowhere and work it out once we get there.
We make a really awesome team. Stu usually shoots photos and Ang usually shoots video (but we are pretty interchangeable, we both do both) Ang runs most sides of the business and Stu does most of the shooting and editing of images and I do most of the filming and film editing.
With us, what you see is what you get … We are open and give you all the information you need so you know exactly what is happening with us, what to expect and what you'll receive.
We own a house on Straddie, have family and our social circle here, have built a couple of businesses from scratch here and spend the money we receive from working here, back  in the local economy.
We are really freakin' good at shooting weddings (isn't that what you are here for!) but we also do other stuff
We also make documentaries. It is a passion and we like to bring to light things we consider important important things. In 2021 we made one about the Aboriginal workers of the Dunwich Benevolent Asylum and their campaign for equal wages (the first in Australia) In 2022 we did one about the Aboriginal peoples Connection to Country with another being made at the moment.
We don't like waste and very rarely buy anything new (hands up who else op-shops – high five to that)
Stu makes his own beer.
2024 wedding dates; Our diary is open and we have availabilities in March and October/November
Hello, is it us you're looking for?